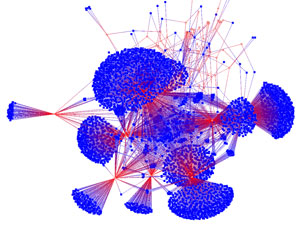 Knowledge and expertise, especially of the kind that can shape public opinion, have been traditionally the domain of individuals holding degrees awarded by higher learning institutions or occupying formal positions in notable organizations. Expertise is validated by reputations established in an institutionalized marketplace of ideas with a limited number of "available seats" and a stringent process of selection and retention of names, ideas, topics, and facts of interest. However the social media revolution, which has enabled over two billion Internet users not only to consume, but also to produce information and knowledge, has created a secondary and very active informal marketplace of ideas and knowledge. Anchored by platforms like Wikipedia, YouTube, Facebook, and Twitter, this informal marketplace has low barriers to entries and has become a gigantic, and potentially questionable, knowledge resource for the public at large.
KredibleNet is a global community of scholars and practitioners interested in defining, measuring, and operationalizing reputation as a new and essential component of the knowledge that is generated and consumed online. The community interacts through a series of workshops supported by an online platform (Kredible.net) to: 1) identify existing and future Knowledge Markets and the associated data-intensive data sets; 2) explore what constitutes Reputation, Role, and Authority, and how it can be quantified and leveraged; 3) and collaboratively design a reputation measurement and dissemination cyberinfrastructure prototype to serve as an experimental laboratory for the research community. The infrastructure will ultimately provide access to live social media data, including a 250 million record dataset containing all edits made to Wikipedia over a period of 10 years. The dataset offers the KredibleNet community the opportunity to experiment with data-intensive analytic strategies and to better define the nature and extension of the reputation measurement problem. The tools and techniques will first be defined using the Wikipedia dataset and then applied to other available social media data sets (YouTube, Twitter, etc).
The ultimate goal of KredibleNet is to shape the next generation of theoretical and analytic strategies needed for understanding how knowledge markets are influenced by social interactions and reputations built around functional roles. The workshops, papers, conference presentations, educational or mentoring activities generated by KredibleNet aim to change the way in which knowledge generation in social media spaces is understood and utilized. The tools and algorithms prototyped through KredibleNet offer concrete avenues for developing the next generation of "information gauges" that would help tomorrow's information consumers make smarter choices.
About the founders:
Kredible.net is a project initiated by Sorin Adam Matei (PI), Elisa Bertino, Michael Zhu, and Chuanhuai Liu (co PIs) at Purdue University. It's main collaborators are Marc Smith (Social Media Foundtion) and Luca De Alfaro (WikiTrust).
The project produced three book: Roles, Trust, and Reputation in Social Media Knowledge Markets: Theory and Methods (Computational Social Sciences), Transparency in Social Media, and Ethical Reasoning in Big Data